Charged with a Crime in Muscogee Nation?
If you have been charged or arrested by the Muscogee Nation Lighthorse Tribal Police Department, you need legal representation. Whether you're facing misdemeanor or felony charges, it's important to have legal counsel from a knowledgeable attorney licensed to practice in the Muscogee Nation tribal court.
With the McGirt decision in July of 2020, tribal members who are charged with a crime that was committed on tribal land cannot be tried in Oklahoma courts. Those cases now go directly to the tribal court of the reservation the crime was committed on. If you have been arrested anywhere in Oklahoma that doesn't have jurisdiction because of McGirt, contact attorney Ted M. Hasse for representation.
Criminal Defense Practice Areas
Misdemeanors
Felonies
Expungements
Post-conviction relief
Misdemeanor Charges
If you've been charged with a misdemeanor in the Muscogee Nation, you need a skilled defense attorney who represents your interests. Ted M. Hasse works with clients to achieve their preferred.
A misdemeanor is a crime that is less serious than a felony, but more serious than a traffic ticket. Although some traffic violations can be misdemeanor as can offenses like trespassing or certain types of assault. Misdemeanors are punishable by fines and as much as a year in jail.
Misdemeanors committed by tribal members on tribal land are tried in tribal court since the 2020 McGirt decision.
Felony Charges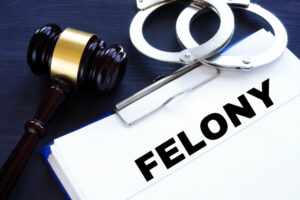 If you've been charged with a felony in the Muscogee Nation, it's crucial that you get an experienced lawyer immediately. Felony charges are serious. Make sure you have the right attorney on your side. Let Ted M. Hasse fight for you.
A felony is the highest degree of criminal offense. Examples include arson, burglary, and murder. Punishments vary widely depending on the severity of the crime. Fines range from $1,000 to more than $25,000. Jail time could be years to life. In rare cases, there's the death penalty.
Like misdemeanors, since the McGirt decision, felonies committed by or against an Indian on tribal land cannot be tried in state courts. However, not all such felonies are handled in tribal court. Depending on the circumstances, some felonies will be tried in federal court, instead.
With the exception of some domestic violence offenses, crimes committed by non-tribal-members against members of a McGirt tribe are prosecuted in federal court.
The Major Crimes Act of 1885 lists seven crimes that fall under federal jurisdiction if they're committed by an Indian on tribal land. McGirt expanded this to include Indian victims of these crimes. The crimes are murder, manslaughter, rape, assault with intent to kill, arson, burglary, and larceny.
Under federal law, tribes may not codify felonies. That means the highest level charge a tribe can bring against its own members is a misdemeanor. But the definition of misdemeanors for tribes has evolved. At one time, federal law considered a tribal misdemeanor to be crimes with penalties up to 3 years. Then the definition further expanded, to allow longer sentences from tribal courts.
Tribal and federal court share concurrent jurisdiction for these cases, but US jurisdiction always has precedence. Where crimes may be prosecuted in federal or tribal court, controversy and confusion can arise. It is urgent that you retain an attorney who knows how to navigate these potentially complex cases.
Whether the felony you're being accused of is likely to go federal court or to be charged in tribal court, you need a reliable and hardworking attorney on your side. Contact Ted M. Hasse at (918) 947-6552.
Expungement
If you had state convictions that were — or could be — reversed under McGirt, you may petition a state court to have those charges removed from state court records. Attorney Jason Like can advise you how to get those records removed so they don't appear in background checks.
Post-Conviction Relief
If you've been convicted of a crime in Muscogee Nation, you may be able to apply for post-conviction relief. You could possibly get your sentence reduced or vacated, so you serve less or no jail time.
A couple of situations that might qualify you for post-conviction relief are if you were sentenced under old guidelines or if you believe you had insufficient counsel.
To find out if you could qualify for post-conviction relief and to get your questions answered, contact Muscogee defense attorney Ted M. Hasse.
Free Consultation with a Muscogee Defense Attorney
Whether you're facing misdemeanor or felony charges or seeking an expungement or post-conviction relief, you need a diligent attorney who understands the Muscogee Nation tribal court. Ted M. Hasse has experience litigating in tribal court. He knows how it works and what to expect. To get his knowledge and expertise on your side, start with a free consultation. Call (918) 947-6552 or click 'request a consultation' and fill out the form.